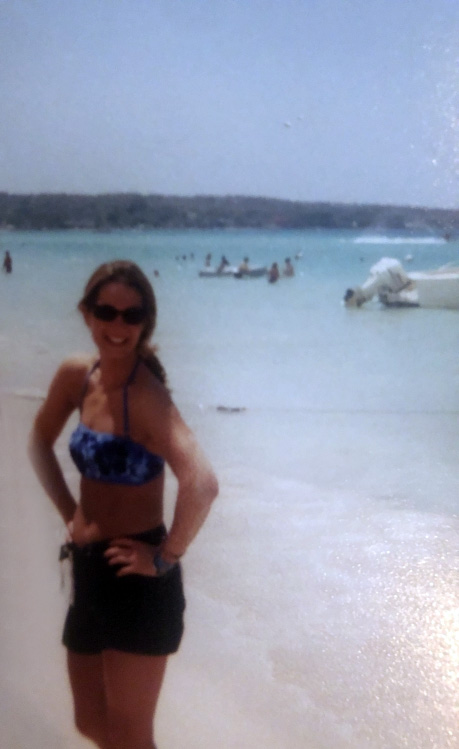 These pictures are when I was twenty two. I went to Jamaica with my brother and his friend and I remember my exact words on that beach. "Take a photo of me because when I am thirty, I am going to wish I looked like this." I trained/worked out like a maniac and also fought.
I ate minimal and cut out major food groups. I wondered why I had poor energy, my hair was thinning, and I didn't have the muscle tone for the amount of working out I did. I ate "filler foods" like ice berg lettuce with no calories and no nutrients. I ate tons of food and drinks with fake sugars to avoid calories to fill me up. I would go to bed hungry and in return would have the worst nights sleep. Sleep is your bodies charging station, so I wasn't doing myself any favors. My habits were very unhealthy for my insides as well as my outsides. BUT, I didn't care. I was skinny and thought I looked fit.
Fast forward to forty two, I feel and look SO much stronger. I am faster, my cardio
and endurance are in top condition, my balance is better than ever, I am more flexible than I have ever been. It is not just about one of those things to make you "in shape" , I have learned it is all of it!!! I now eat to feed my immune system, my joints, my skin, my hair, my mind and my sleeping quality with the BEST nutrients!
Here is what I learned in my late twenties. I read a book my brother gave me called "Body For Life" by Bill Phillips! I have bought this book and read it and loaned it out so many times, I don't even own a copy anymore. The link to the book is below. The picture shown below is his other book Transformations which is highly motivating and I highly recommend it.. Body for Life has been my go to bible for healthy life style eating for many many years now. It changed my physique, my mind set, made my pregnancies easier, and the quality of everything so much better from sleep to energy to performance in the ring!!! I truly can not say enough about this book and how it is a life style and NOT a diet.
Here is a little sum of what it is about. It is eating a portion of carbohydrates and a portion of protein at the same time every couple of hours. Aiming for six small meals a day. This keeps our blood sugar level with no energy spikes or crashes, and it keeps our metabolism in a happy fat burning state. It ensures we get an adequate amount of protein and ensures us we do not over eat our carbs!!!! It teaches us not be afraid of healthy fats! It also gives us a free day, so let's be honest....I was like I AM IN!!!!!!
Have you ever heard the term "Abs are made in the kitchen?" They really are!!!!! This has been the perfect combination of fuel to put into my body at the right times of the day to have a well oiled conditioned "Body For Life". I also linked the Boso Ball you see in some of my photos. The Boso Ball has many benefits that I have found to be an amazing tool to really help my balance. I really just wanted to include it, but it is discussed in other articles more in depth!
The correct portion sizes are better explained in my article "Sensory Fun For Kids and educational portion control for Adults". Along with measuring bowls to help with portion control. If you put your hand flat out...the palm of your hand is the portion of protein you should be getting! Make a fist, that is typically your carbohydrate portion! I hope this book helps you. No method is a one size fits all, but I promise you it is definitely a one size fits most and you will not do you wrong!!!! If you need any guidance, I am here to help!