I just have to ask, Dunkin Donuts coffee or Starbucks? For me, it's Dunkin all the way!!! The truth is ANY coffee you may drink is ok in my books! It is when people tell me they do not drink coffee I feel as though I almost need a translator to understand what they are talking about haha. I do not quite understand the whole "I don't drink coffee thing!"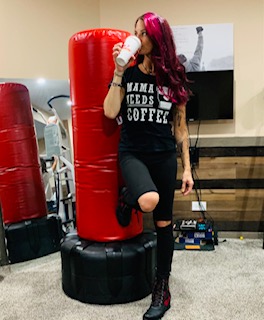 People often ask me how I do it with having three small children, train for fights, work out and have all this extra energy to do all the projects we do together. My secret is not really a secret....I eat healthy, I try to get proper rest, I have a strong drive when I am passionate about something but the most important thing is I run on caffeine. If I could hook up an I.V. of it throughout the day to my veins, I probably would haha. I never understood my mom's addiction to coffee until I became a mother. And by golly it HAS to be black. I know alot of people who drink cream and sugar with a splash of coffee yikes! I could lie and say that doesn't make my teeth cringe, but it does hahahaha But to each their own and cheers to however you drink it! I love coffee so much my kids like to pretend they are drinking coffee with me by having hot chocolate!
Let us dive right in! (and believe me if I physically could I probably would go swimming in a coffee pool lol) Then some of you can thank me for brightening your day with all these amazing health benefits coffee provides!!
According to health line:
Number one is a given, It can improve energy, mood and various aspects of brain function because of caffeine-the most commonly consumed psychoactive substance in the world.
Can help burn fat, specifically by as much as 10% in obese people and 29% in lean people. It is one of the few natural substances proven to aid fat burning.
Can drastically improve physical performance by stimulating the nervous system and increasing adrenaline levels in your blood.
Contains essential nutrients: Vitamin B2, Vitamin B5, manganese and potassium and magnesium and niacin (vitamin B3).
May lower your risk of type 2 Diabetes, studies show people that drink the most coffee have a 23-50% lower risk of getting this disease.
May protect you from Alzheimer's disease and dementia, several studies show that coffee drinkers have up to a 65% lower risk of getting it.
May lower risk of Parkinson's. Parkinson's disease is the second most common neurodegenerative condition, right behind Alzheimer's. This disease is caused by the death of dopamine-generating neurons in your brain. As with Alzheimer's, there is no known cure so it is important to focus on the prevention. Studies show that coffee drinkers have a reduction rate ranging 32-60% which is directed towards the caffeine, because people who drank decaf do not have a lower risk of Parkinson's.
May protect you liver, it may protect against cirrhosis-people who drink 4 or more cups per day have up to 80% lower risk.
Can fight Depression and make you happier, a Harvard study published in 2011, women who drank 4 or more cups of coffee per day had a 20% lower risk of becoming depressed. Another study in 208,424 people found that those who drank 4 or more cups per day were 53% less likely to die from suicide.
May lower risk of certain cancers, liver and colorectal.
Does NOT cause heart disease and may lower risk of stroke risk.
May help your live longer, given that coffee drinkers are less likely to get many diseases, it makes sense that coffee could help you live longer.
The biggest source of antioxidants in the Western diet. Studies show that many people get MORE antioxidants from coffee than from fruits and vegetables combined.

John Hopkins also says that people who drink coffee :
Are less likely to get type 2 diabetes
May ward off heart failure.
Could strengthen their DNA, dark roast decreases breakage in DNA strands, which occur naturally but can lead to cancer or tumors if not repaired by your cells
USA Today says that studies have found that a daily intake of four cups is a safe amount. Federal guidelines suggest three to five eight-ounce cups of coffee per day (providing up to 400 milligrams of caffeine).
Of course there are SOME draw backs. Personally I have to cut myself off around 5 p.m. or I won't sleep and also I can not drink caffeinated coffee if my nerves feel little on edge because as I'm sure you all know, can make you a bit jittery. Caffeine tolerance is different for everyone, especially if you are pregnant or breast feeding, so please do not go and chug like 30 cups of coffee for its health benefits, consult your doctor if you are not sure. When I was pregnant I could only have a half a cup of day because my body became very sensitive to it. Throughout the day I will do many cups of half regular and half decaf just so I do not over do it.
These are the majority of coffee benefits. I have to add in that this is the actual coffee bean. BLACK coffee. I know most people enjoy all the bells and whistles that are in the new and popular Mocha Triple Carmel Extra Double Whipped Cream Latte with Extra Sugar and Extra Cream and please make it an xxxx large (clearly, I just made that up ha). THIS will counteract all the health benefits. So be mindful especially with your favorite holiday drinks. Find ways to make it a little lighter in calories, sugar and fat and I know coffee places have come along way with substitutions.
Some delicious homemade alternatives to add different flavors to your coffee could be:
Vanilla extract or the flavored vanilla bean
Cardamom
Cinnamon
Cocoa powder
Monk fruit sweetener
Here are some healthier flavored coffee recipes: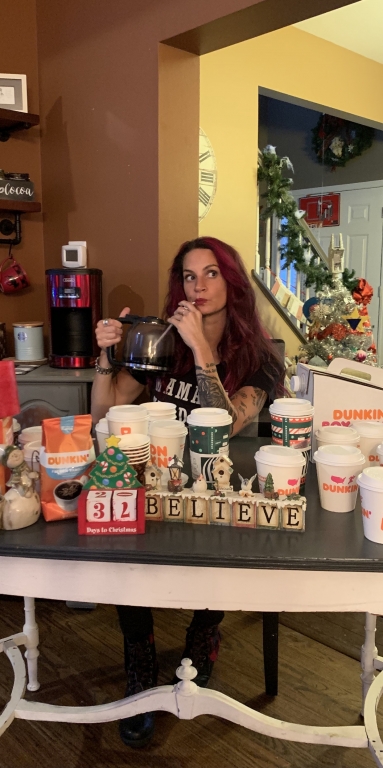 ICED PUMPKIN SPICE "LATTE" SMOOTHIE
1 cup coffee

1/2 milk

2 teaspoons pumpkin pie spice

1 teaspoon vanilla extract

1/2 cup canned plain pumpkin

4 ice cubes
COFFEE PROTEIN SMOOTHIE
Brewed coffee
Banana
Peanutbutter
Chocolate Protein Powder
Almond Milk (or regular milk)
Bullet Proof Latte
1 1/2 cup hot brewed coffee
1/2 cup milk
1 teaspoon organic coconut oil
1 scoop vanilla or chocolate protein powder
Optional: 1 scoop collagen peptides
Carmel Macchiato
8 oz Cold brewed coffee
2 tablespoons Paleo carmel sauce
2 oz. Unsweetened almond milk
Ice Optional: (but I recommend doing so ) 1 scoop vanilla protein powder
"Mama needs coffee"
"I'd rather take coffee than compliments now"
" You did it! Congratulations! World's Best cup of Coffee! Great job, everybody! It's great to be here" -Elf
Please feel free to reach out and comment below!!!
Always Thankful, Katie