"Love what you do and it does not feel like work!" I love that quote. It is very true! I started working at Salon Lorrene in Palatine Illinois when I was 24. When I had my third Baby at 39 is when my husband and I decided I would stay home to take care of our children. Growing up I loved to play with my own hair, my doll's hair and other people's hair. I always knew I wanted to be a hairstylist. I did get my Associates in Arts degree and then spent time at ISU in Bloomington Illinois and it was in my third year of college I couldn't take it anymore and just wanted to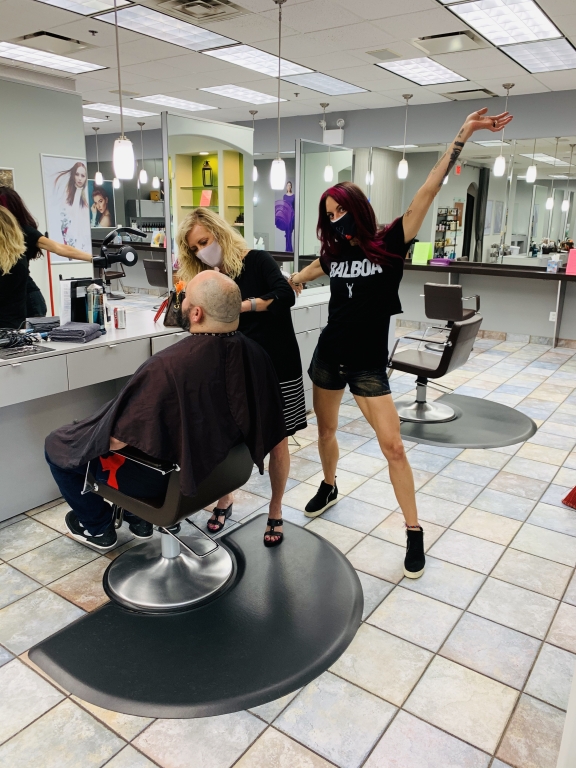 come home and do something I was passionate about.
Being inspiring is a big role that not everyone has that God given talent to fill. Some people work at it and it shines through. There are others that are just born with it and their positive energy is contagious. Think about your life and the people you allow to take up space in the areas that are important to you. Do they add to your life? It has taken me a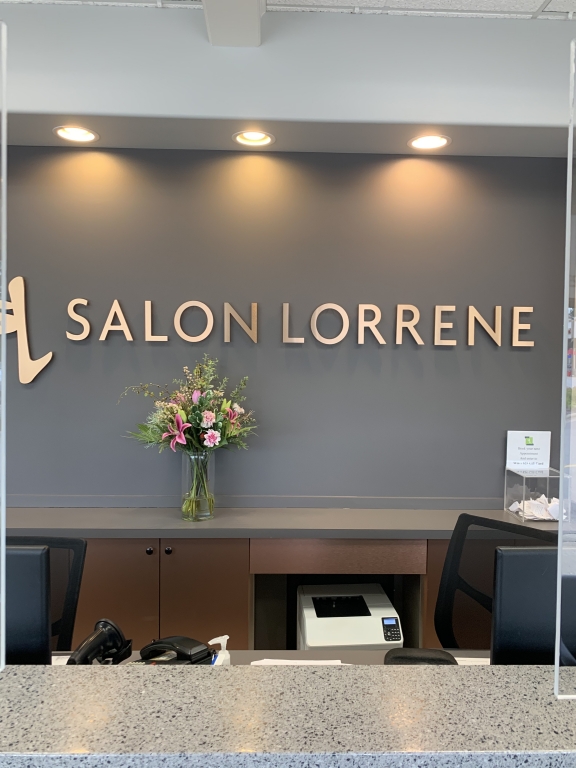 long time to really analyze this. I have a tendency to hold on to things and people just because they have been in my life for so long. That is not a pure enough reason to keep people in your life that may be toxic.


Getting back to working in a salon, I realize not everyone is as lucky and blessed as I was to have worked for an individual with such drive, strength, talent, kindness and success. The longest place I have worked was Salon Lorrene in Palatine, Illinois. The years flew by because what they say is true. Time does fly by when you are having fun! The best part of working for my Boss Lorrene Conino was she possessed all those qualities and more. Salon Lorrene is the most amazing Salon because of Lorrene. Each employee has learned from owner Lorrene Conino who has owned her successful salon for 22 years! I have seen the ups and downs with the economy crashing in '09 to this pandemic. It is hard for a business owner to not only keep their doors open these days, but thrive with such a positive
mental attitude and she does it with grace. I feel there are not enough words, and although my chapters have ended there for now, I have walked away with a dear friendship in my boss and a few others from that environment for life. THESE are the people I keep a space for. Take inventory on the people in your life that give back to your soul, who are the genuine ones.
I want to bring up another topic, one I am sure we would all like to just fast forward and be over with. This ongoing Pandemic that seems to be out of our
control. What we can control is what we do for ourselves to keep our mental game strong! I can say first hand being a stylist/colorist in the service industry was a win win. I got to help people feel THEIR best and in return I felt MY best by seeing people light up after their service was over. I remember the words of one of my clients during the economy crash and she tried saving money by letting her gray hair grow out. She came in one day and said to me "I would rather eat canned beans than let myself go." It is the simplest thing you can do for yourself to make your whole entire look, mood, soul, and confidence soar. I know because I have been at many ends of the

spectrum from being a shampoo girl, a stylist/colorist working behind the chair, a client to being a stay at home mom and doing my own hair at home. Yes, you could save money but I can almost guarantee you would spend it elsewhere on meaningless things, OR you can invest in yourself as a priority.
Be kind to yourself these days. Go do something for YOU! You certainly deserve it! Go get your hair done!!! Let someone pamper you a bit. Let them wash your hair with a head massage, create a look that is complimentary to your style and face shape then let them blow-dry your hair and lift some of that heavy weight off your shoulders, I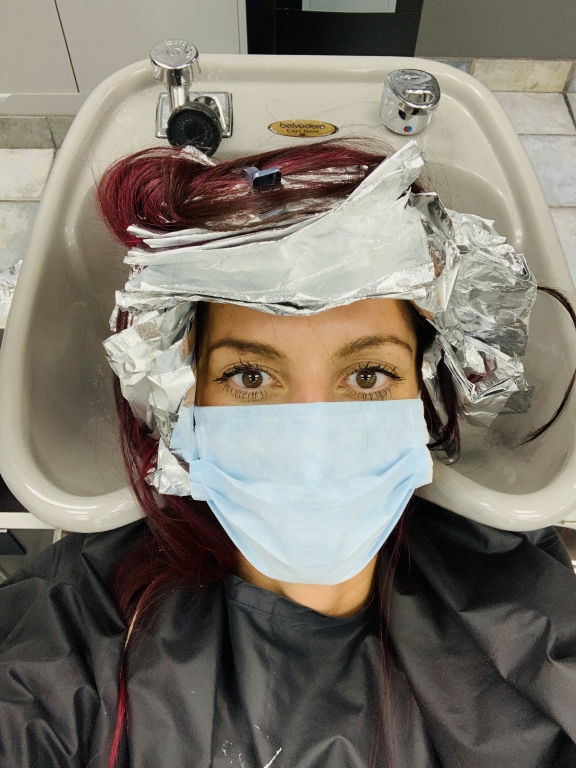 know when you get up from a stylists chair you feel lighter! I know that because I could feel it in my clients. My mood changed almost after every client because I know they felt 10 times better. People ask me if I miss it. The answers is, I miss my boss on a regular bases who gave and shared every tool she could to help me become as successful as I could be. She was the most unselfish leader wanting to pass on all that she knew. I miss the atmosphere of people connecting, sharing stories, coffee, helping people feel good when they stepped outside the salon.
I pretty much grew up at Salon Lorrene. Be picky in your place of employment. It could shape who you are for years and years to come. Find an employer who wants the best for you and the only competition she or he has within the work atmosphere is the competition to help make you as successful as she or he can! Walking away from this type of environment to be home with my family was a very hard choice, but I know the door is always open. I was not just leaving a place of business I was leaving a life and my other family.

TREAT YOURSELF!!!!!! IT IS A MUST!!!! It had been awhile since I had been there to get my own hair done. The video below you hear me expressing my
feelings before I go into the salon to get a full blown service again as a client at Salon Lorrene! Let me tell you, I felt like a million bucks! I can not help to wonder and ask myself even before the pandemic, why did I let so much time get away from treating myself. I have an article of me doing my own hair in my bathroom and I am pretty knowledgable and savvy to be able to do it myself, but it pales in comparison to the amazing atmosphere Salon Lorrene provides with the best of the best doing your hair. Not only do they all have incredible talent and professionalism but great communication skills. They all have down to earth, genuine, laughable light hearted personalities, that will make you feel like you are the only client they have! I am not just saying that because I worked there. I wouldn't say anything at all hahah! GO!!! Make an appointment and if Salon Lorrene is not an option, go where there is an option! Get your hair done! Makeup done! Eyebrows done!!! Facial! Nails! Whatever it is, GO TREAT YOURSELF!!!!
Be kind to yourself, and make sure you demand that respect from others be kind to you as well! Love yourself and know you are SO worth it!!! EVERY inch every penny!!! You are worth it! Bottom line is surround yourself with positive things and people! Your soul will thank you.
Always Thankful, Katie
Please feel free to comment and subscribe below!
(Picture and Hair credit by Stacey Tessler, Master Stylist and Colorist at Salon Lorrene)
"You set the standard for how you want to be treated"
"We push ourselves to the point of exhaustion by dedicating all our time and energy to anything else but taking care of ourselves-and that leads to burnout."
"Enjoying some "me" time doesn't make you selfish-it's simply necessary"