Do you know how lucky you are to know your grandparents? Have you been blessed to be able to spend time with them? I look at our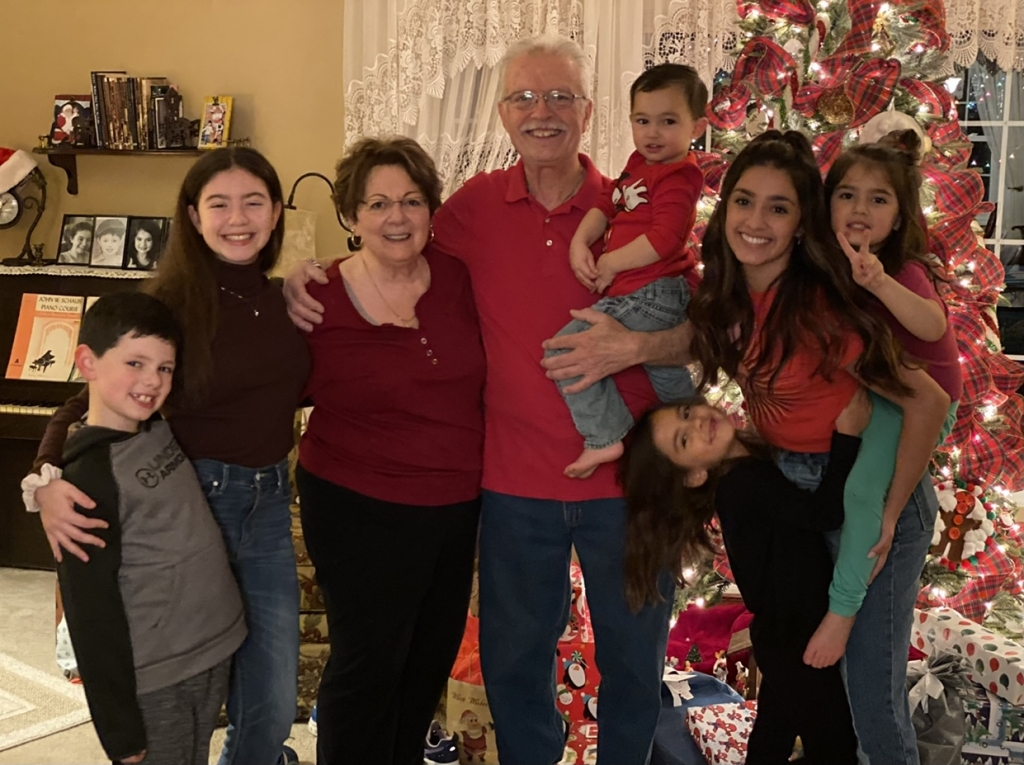 kids and my brother's kids and how they interact with their grandparents and I constantly tell them how lucky they are to have all of them! They say they do know how lucky they are. Honestly I am not sure they REALLY can understand until they are older JUST how blessed they are. I was very young when all my grandparents passed away. I have very few memories of any of them, so I do not know 100% on what I am missing. I go off of stories from my parents and relatives on what they were like so I have a pretty good sense on who they were. There are times I wish I had the memories that my kids are making with mine and my husband's parents.
My parents live about 5 minutes away from me so they are very much apart of mine and our children's lives. They call my parents from their iPads begging to go over, sleep over, have dinners, spend the day, whatever they can get out of my parents and of course my parents hardly ever say no.
My husband's parents live out of town and even though they do not see them all the time, I know our kids are making fond memories with them as well when we can all be together! When they are in town they can not get enough of one another! We all know how special grandparents are. I often wonder what it would have been like if I would have known mine or still had them here. Seeing my kids enjoy our parents the way they do is beyond special to me. This is a gift that can not be bought, goggled, made, or rented. It is a true gift watching them together!
All three of them have my parents wrapped around their fingers. My little guy Dominick who is 3 is so innocent and he can do no wrong. Sometimes when I pick up my 5 year old daughter from my parent's house I will see her playing cards with my mom or helping her bake. (Is that an Italian thing or just a grandparent thing?) Then there is my oldest son who is 8 and has his papa wrapped around his finger, toes and waist!!! He will have my dad outside playing soccer and running around with him all day. At the end of the day my dad will tell me how tired he is. BUT, on the other hand he will also tell me how with every physical and blood work done his doctor tells him his numbers are good! I tell my dad it is because he has Dante to keep him in shape mentally and physically hahah!!!
In fact, a recent study from the National Health Service has found that grandparents who babysit their grandchildren live longer than those who don't....Researchers found that caregiving grandparents had a 37% chance of living longer when compared to non-caregiving grandparents and non-grandparents. Science shows grandparents who watch their grandchildren add an average of five years to their lives. The Evolution and Human Behavior study also found that older adults who helped care for unrelated children also had years added to their lives. The care giving in general is what adds on to their lives. Of course with everything there has to be a balance so before you run and dump your 5 kids on your parents and tell them it is good for their own health, you certainly don't want to exhaust them! Trust me, I think I have pushed my parents to their limit where they are literally telling me and my kids " IT IS TIME TO GO HOME!" hahaha
There is no greater learning experience in life than listening to the words and stories of our grandparents. The smell of their home, the goodies in the cookie jar, the warmth in the air and where the answer is rarely a "no" when their grandkids ask for anything(no wonder they love it there, they trade my husband an I in seconds to spend time with their grandparents haha). I swear my parents love my kids more than they loved me and my brothers hahaha. Most likely because they can spike them with a sugar overload and then send them home for the sugar rush. The other day we were over there and my daughter asked if she could have a cookie and I said no, and of course my mom was like "Oh, just let her have ONE!" and I looked at Brooklyn and said "Why do you even bother to ask me?" haha
The way all their faces light up when they see one another whether it be for 10 minutes or 6 months is a treasure. I could post at least 800 photos of our kids with their grandparents. It is hard to capture the best of the best ones. Like I said, we all know how incredibly meaningful and important grandparents are. Savor them! Now go take 800 photos of your own!!! Do not take advantage of them. They are the soul to our past, the roots in who we are and our moral's to bring into the future.
Always Thankful, Katie
Please feel free to comment and subscribe below!
"A grandparent is a little bit parent, a little bit teacher, and a little bit best friend.-unknown-
"Grandparents are a delightful blend of laughter, caring deeds, wonderful stories and love."-Elodie
"Nobody can do for little children what grandparents do. Grandparents sort of sprinkle stardust over the lives of little children."