A little creativity goes along way!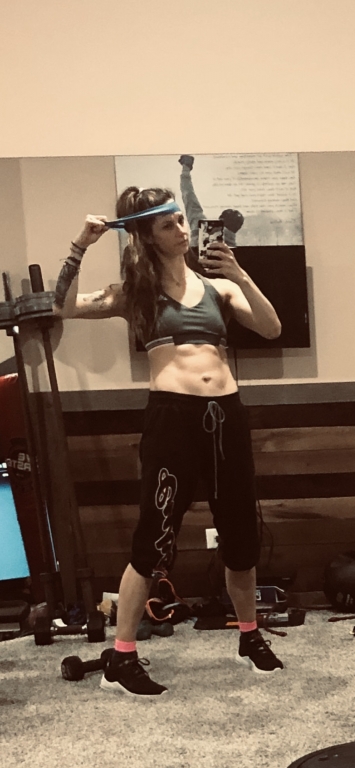 Sometimes I don't feel like listening to someone tell me what to do. There are times I just want to get lost in my music and be in my own zone and tune it ALL out! That is exactly what I did in this workout. It was quick and to the point. All I needed was a pull up assist band, a human body and a strong will. I did use a 20 pound medicine ball at the end. You will find you can work your way up to that or use any weight! Sometimes I will use my resistance band to strengthen my neck and sometimes I use my pull up assist band to add resistance and assistance else where...like my plyo push ups!!!!!
I have a "Round Timer" app on my phone because I am a kickboxer/boxer and I like to do a lot of my workouts in rounds. BUT even if you are not a kickboxer, it is a GREAT way to get an amazing interval workout! You can spice up the old metabolism into some serious fat burning with minimal time.
I usually set the timer for 2 or 3 minute rounds with 15-30 second rest in between and do at LEAST 12 rounds.
I shorten this video with the exercises you see, but each exercise was done in 2-3 min rounds. I repeated it 4 times through equaling 12 rounds total! I promise you, you will feel and see the effects of this workout with a minimal investment in equipment and take only 30-40 minutes of your time!!!!!!